Sarà l'iconico Robby Naish che il 19 gennaio inaugurerà l'apertura della 50° edizione del Boot di Düsseldorf, forse la fiera di settore con la maggior affluenza di pubblico, grazie alle tante superstar sempre presenti, alle manifestazioni che vengono organizzate, alle aziende che presentano gli ultimi materiali in collezione, nonché la possibilità di acquistare materiale a prezzi d'occasione!
Per quanto riguarda il SUP, i marchi più prestigiosi presenteranno le loro ultime novità nei 13.000 metri quadrati della HALL 8a. Tutti i brand (fra cui Brunotti, Fanatic, Mistral, Quattro, Siren, Starboard, e fra gli altri anche alcuni brand italiani) potranno dimostrare come diventerà il SUP nei prossimi anni anche grazie alla presenza della piscina THE WAVE realizzata da citywave® e di un bacino di 1.400 metri quadri per la prova delle tavole...
In questo modo sarà possibile non solo vedere e toccare, ma anche provare la tavola che vorreste acquistare, o partecipare alle lezioni di SUP YOGA e Fitness che verranno programmate durante il giorno. Quindi ricordatevi di portare anche asciugamano e costume da bagno perché dalle 10 alle 18 sarà possibile pagaiare nella piscina lunga 65 metri oppure fare una session fra le onde di THE WAVE. Se volete sapere quando potrete partecipare alla vostra session e quanto a lungo potrete surfare le onde del Boot di Düsseldorf, seguite questo link: thewave.boot.de
E quando vorrete rilassarvi potrete farlo davanti al palco dove verranno a intrattenere il pubblico le più importanti star mondiali: il primo fine settimana di saranno le leggende Robby Naish e Bjorn Dunkerbeck, mentre nel secondo weekend sarà la volta di Airton Cozzolino e Zane Schweitzer.
Il 26 e 27 gennaio infatti, ci sarà una vera propria caccia agli allori e ai 7.000 € di montepremi messi in palio nel 3° SUP WAVE MASTERS e SHORT TRACK MASTERS, ma ci saranno anche competizioni col foil. Le informazioni sul programma delle competizioni e sugli atleti presenti le potete trovare sempre alla pagina thewave.boot.de
E se volete provare a mettere a segno qualche affare, nella contigua HALL12 si trovano gli stand dove poter acquistare direttamente i nuovi giocattoli da usare nella nuova stagione, mentre dalle 17 nella Hall 8 verrà alzato il volume della musica, per potersi rilassare mentre si gusta qualche delizioso cocktail.
Tutto questo premesso, se per caso non riuscirete a fare un giretto per gli stand del Boot di Düsseldorf non preoccupatevi, perché la redazione di SUP NEWS sta preparando una incursione di qualche giorno in terra teutonica, per raccontarvi LIVE tutte le novità e le NEWS del momento... quindi STAY CONNECTED!
FRA GLI ALTRI SARANNO PRESENTI ALCUNI BRAND ITALIANI, TIPO: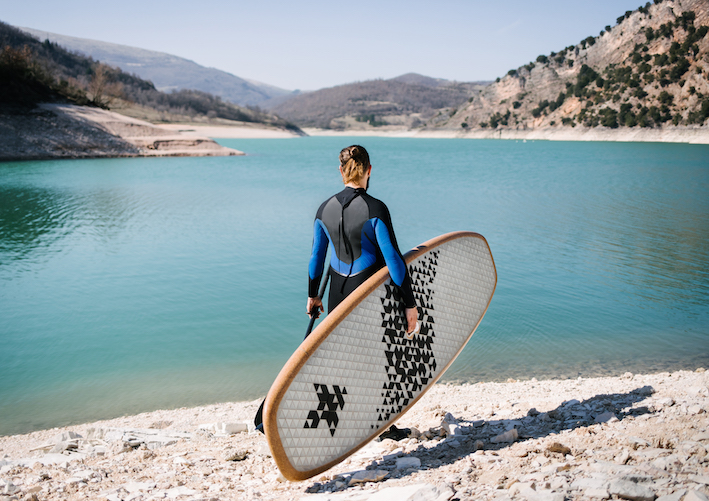 BOOT INFO:
Il Boot di Düsseldorf è aperto tutti i giorni dalle 10 alle 18, dal 19 al 27 gennaio 2019.
Le novità degli sport con la tavola si possono vedere e scoprire nei 13.000 metri quadri della HALL 8, direttamente di fronte all'ENTRATA NORD.
Nella Hall 8 c'è una piscina 1.400 metri quadrati attrezzata con 

2.0 Tow per fare Wakeboarding, Tow-In Windsurfing e il Foiling Show Contest.

THE WAVE è la piscina dove si può sperimentare RIVER SURFING con onde veramente profonde, realizzata dai creatori di 

citywave®

Saranno presenti tutti i più importanti produttori, fornendo ottime opportunità comprare, parlare e scambiare informazioni.
Le più importanti star saranno sul palco di fianco alle piscine a raccontare le proprie esperienze.
La presenza di molte importanti agenzie viaggi darà la possibilità di prenotare le vostre prossime vacanze direttamente sul posto.
I cacciatori di occasioni potranno trovare pane per i loro denti nella HALL 8 e 12.
I biglietti del Boot potranno essere utilizzati anche per muoversi sui mezzi pubblici all'interno della 

"Verkehrsverbund Rhein Ruhr".

Per ricevere maggiori informazioni e prenotare i biglietti, visitate il sito: 

www.boot.de