Ritorna dal 18 al 26 gennaio 2020 il Boot di Dusseldorf, la fiera nautica che vanta da sempre una grande sezione dedicata ai board sport e anche il maggior numero di visitatori che vengono per vedere toccare, provare e acquistare tutte le ultime novità proposte per la prossima stagione.
Il numero di produttori che hanno annunciato la loro partecipazione alla fiera degli sport acquatici più importante del mondo di Düsseldorf non è mai stato così alto. Mai prima le attrezzature per sport acquatici e accessori hanno occupato una superficie così ampia. Anche per il settore del surf si profila un record.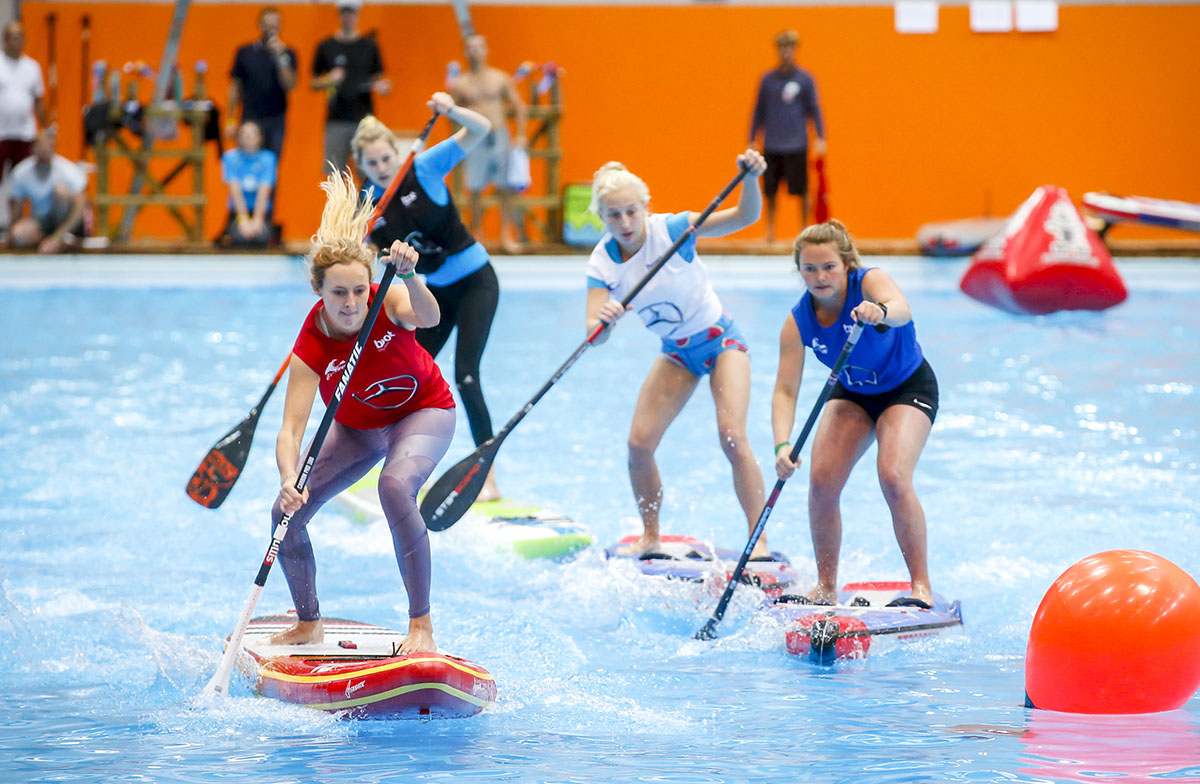 Dal 18 al 26 gennaio il boot Düsseldorf 2020 apre i suoi battenti e presenta le tendenze negli sport acquatici della prossima stagione.
Avvio di stagione sul Reno
L'ultimo dolcetto di Natale si è appena depositato sui fianchi, le palestre registrano il pienone e iniziate ad allenarvi per la stagione degli sport acquatici 2020. Allora è arrivato il momento di prepararvi alla nuova stagione anche per quanto riguarda l'attrezzatura. Il modo più semplice è recarsi al boot a fine gennaio. Già a settembre 2019, 22 marchi di windsurf e SUP hanno confermato la propria presenza – il miglior risultato dalla metà degli anni 2000. Consulenza tecnica e ampia scelta sono quindi garantite.
Discutere di questioni tecniche
Dal 18 al 26 gennaio 2020 le celebrità della scena del surf si avvicendano al microfono nel padiglione 8A. Così scoprirete dal vivo dove si sono allenati i professionisti durante l'inverno, quale materiale preferiscono e perché. Oppure vi fate semplicemente un selfie con le star e chiedete loro direttamente alcuni consigli per la prossima vacanza surf, che potrete ovviamente anche prenotare direttamente sul posto. Non siete ancora professionisti? Non importa. Chiedete una consulenza professionale al boot.
Ampio settore per principianti e intermedi in cooperazione con la VDWS
Nessun maestro è mai caduto dal cielo, ma noi tutti siamo già caduti dalla tavola. Per cercare di migliorare le cose, la VDWS propone al boot una serie di seminari sul surf specialmente dedicati a principianti e intermedi. Iscrizione direttamente sul posto presso la VDWS. Qui riceverete tutte le informazioni sulla tavola e la vela giuste, potrete fare domande oppure prepararvi a compiere nuove manovre con un allenamento all'asciutto su un simulatore di surf, anziché iniziare da zero in acqua con un dispendio di tempo ed energie. Come coach abbiamo ingaggiato per voi il team di maestri della VDWS, che da 45 anni forma maestri di surf in tutto il mondo con un sistema in costante evoluzione – cosa desiderare di più?
Foiling e winging
La stagione degli sport acquatici 2020 è completamente all'insegna di ulteriori sviluppi e nuovi prodotti nel settore del foiling e del wing surfing. Grazie a speciali foil adatti ai principianti, i produttori consentono di volare sull'acqua anche al comune windsurfer. Profili più spessi e più lunghi causano un maggiore lift e velocità non troppo alte a fronte di una migliore controllabilità. Al boot i produttori illustrano e spiegano nel dettaglio i loro nuovi prodotti e concept.
Nella stagione scorsa ci sono prevenuti continuamente nuovi video sul tema winging. All'inizio vedevamo ancora windsurfer professionisti "traviati" scivolare eleganti e tranquilli spinti da una leggera brezza, poi a Maui le prime gare e ora salti, voli, manovre e combinazioni di diverse discipline sportive sempre più estremi. Dove ci porterà tutto questo? Quali concept hanno ciò che serve per il mercato di massa? Comunque sia sono spettacolari e al boot scoprirete tutto ciò che c'è da sapere al riguardo. A chi ritiene che tutto questo non sia abbastanza, non resta che buttarsi personalmente in acqua.
Dare il massimo
Anche quest'anno sarà di nuovo possibile fare personalmente surf sull'onda THE WAVE made by citywave. Per farlo, iscriversi preventivamente online, a partire da fine novembre 2019, su: www.thewave.boot.de. Oppure recatevi direttamente al banco del Flatwater Pool di 65 metri e procuratevi uno slot per praticare il wakeboarding o lo stand up paddle. Per i bambini e per i tipi tosti c'è di nuovo la vasca per lo skimboard, questa volta con iscrizione sul posto.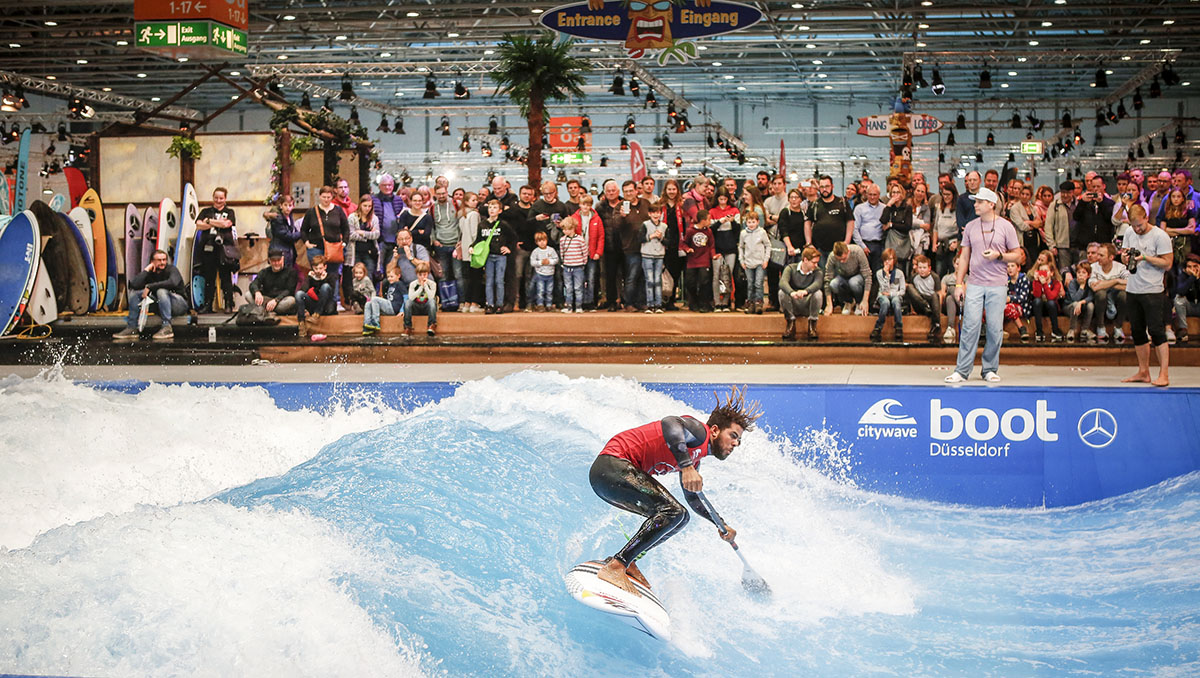 Azione garantita nei due fine settimana del boot Mentre il primo finesettimana di contest è dedicato interamente ai surfisti e professionisti del windsurf, nel secondo finesettimana è la volta dei paddle boarder che si sfidano sia nello sprint che sull'onda stazionaria. Contest e programma degli show:
WAVE Masters – 18. e 19.01.2020
Tow-in Windsurfing Contest – 18. e 19.01.2020
SUP WAVE Masters – 25. e 26.01.2020
Pooltastic Wakeboard Contest – 25.01.2020

European Skimboarding Cup – 25.01.2020

SUP Shorttrackmasters – 26.01.2020
Elenco dei produttori in ordine alfabetico, 
aggiornato a settembre 2019: Marchi di windsurf / SUP
1.     AV Boards | https://www.avboards.com/it/
2.     Duotone | https://www.duotonesports.com/
3.     Fanatic | https://www.fanatic.com/
4.     FMX Racing | https://www.fmxracing.com/
5.     F2 | https://www.f2.com/surf/
6.     GA Sails | https://ga-windsurfing.com/
7.     Gunsails | https://gunsails.com/en/
8.     I-99 | https://www.i-99.it/
9.     Indiana SUP | https://www.indiana-paddlesurf.ch/en/front-page
10.   Mistral | https://www.mistral.com/
11.   Patrik Boards | http://patrik-windsurf.com/
12.   Point-7 | https://point-7.com/
13.   Quatro | https://quatrowindsurfing.com/
14.   SIC Maui | https://sicmaui.com/
15.   Starboard | https://star-board.com/
16.   Severne | https://www.severnesails.com/
17.   S2 Maui | http://www.s2maui.com/
18.   Tabou | https://tabou-boards.com/
19.   Thommen Boards | https://www.thommen1.com/
20.   TIKI Factory | https://www.tiki-factory.com/
21.   Vandal | https://vandalsails.com/
22.   Yolo Boards | https://www.yoloboard.com/
Le cose più importanti da saper sul boot in sintesi:
·       Il boot Düsseldorf è aperto dal 18 al 26 gennaio 2020, tutti i giorni dalle ore 10.00 alle 18.00.
·       Circa 13.000 metri quadrati dedicati agli sport di scivolamento da toccare con mano e da provare nel nuovo padiglione 8a, direttamente all'ingresso nord.
·       Vasca da 1.400 metri quadrati con fune motorizzata 2.0 per il wakeboarding, il tow-in windsurf e i foil show nonché i test di SUP
·       THE WAVE – surf fluviale sull'autentica Deepwater Wave, dai costruttori di citywave®
·       Grandi costruttori presenti sul posto per discutere di aspetti tecnici e informare
·       Star ed esperti di ogni disciplina sportiva di tendenza si avvicendano sul palco accanto alla vasca grande
·       Prenotare la prossima vacanza surf direttamente sul posto.
·       Negozi ad hoc per chi è a caccia di occasioni, sempre nel padiglione 8a
·       I biglietti del boot possono essere utilizzati per il viaggio d'andata gratuito sui mezzi pubblici del Verkehrsverbund Rhein-Ruhr (VRR).
·       Prezzi dei biglietti e biglietti online su http://bit.ly/boot2020ticket
·       Fantastici vantaggi per i membri del boot.club http://bit.ly/boot2020bootclub
A proposito, per tutti coloro che arrivano con il proprio camper, il posto giusto è il parcheggio P1 presso il Caravan Center: corrente, acqua e smaltimento rifiuti sono garantiti e la distanza dal divertimento è eccezionalmente breve.