Children of the Tide  è il frutto di un decennio di esplorazione, fisica e bibliografica, che Nicola "Nik" Zanella ha condotto in Estremo Oriente.
Cosa ci facesse Nicola Zanella in giro per la Cina è presto detto l'ex capo-redattore della iconica rivista SurfNews si è laureato a Ca Foscari (Venezia) in "lingua e letteratura della Cina" e da parecchi anni è salito alle cronache su media come The Guardian, BBC, Der Spiegel per i suoi viaggi surf-esplorativi e per aver portato il surf e la sua cultura in Cina prima e in Corea del Nord poi.
Smessi i panni del Caporedattore di SurfNews nel 2010, Nik ha lavorato come interprete e giornalista free lance, e da anni si è trasferito proprio in Cina, più precisamente nell'isola tropicale di Hainan, dove ricopre vari incarichi, come selezionatore e allenatore della nazionale cinese di surf e come referente per la ISA (International Surfing Association).
Ma torniamo al libro. Tutto ha inizio con un bassorilievo di fine ottocento trovato in un tempio cinese di cui vedete qui la foto.

Ebbene, il tempio in questione risale al 1.200 e si chiama "Tempio di Bambù", si trova a Kunming, in una regione interna della Cina ben lontana dal mare. Su una parete interna si trova un bassorilievo di terracotta realizzato a fine '800 quando il tempio è stato ricostruito in seguito ad un incendio che lo ha parzialmente distrutto.
L'opera ritrae una serie di monaci che fanno surf, assumendo posizioni ed espressioni che non lasciano dubbi sul fatto che l'autore avesse ben chiare le dinamiche biomeccaniche del surf e, a giudicare dalle espressioni e dallo sguardo dei monaci, anche delle sensazioni ad esso legate. E tutto questo in Cina, decenni prima della diffusione dello sport dalla Polinesia all'occidente.
Ebbene, da questo incontro e dalle indicazioni ricevute da un monaco del tempio, è scaturito un lungo lavoro di ricerca che ha permesso a Nicola di collegare le sue passioni per la Cina ed il surf, che in Cina veniva regolarmente praticato almeno mille anni fa, sulle onde di marea che risalgono il corso di alcuni grossi fiumi.
In particolare già nel 1.200 si tenevano cerimonie ufficiali sul fiume Qiantang (poco lontano dell'odierna Shanghai) per esorcizzare l'enorme e devastante onda di marea che da sempre arriva in Autunno chiamata "Drago d'argento", grazie alle funamboliche surfate di personaggi tatuati chiamati "nong chao er", che letteralmente significa "Children of the Tide", ovvero "figli della marea".
Ok, non sarà una di quelle scoperte che cambieranno le sorti dell'umanità, ma di scuro riscrivono la storia dello sport. Per quanto mi riguarda, già essere alla presentazione del libro, il 28 di Agosto al Hanabi di Marina di Ravenna è stato un raggio di luce che squarcia le nuvole che avvolgono la nascita e l'evoluzione del nostro sport. Children of the Tide aggiunge un interessante tassello per una migliore conoscenza delle radici e dell'essenza del waveriding, che non è semplicemente un giocattolo per ragazzini, o per adulti affetti dalla sindrome di Peter Pan, ma affonda le proprie radici nell'atavica necessità dell'uomo di imbrigliare, dominare e volgere a proprio favore le forze della natura, che altrimenti sembrerebbero semplicemente incomprensibili, paurose e devastanti.
Tutto questo viene raccontato in forma di avvincente saggio-romanzo per creare un collegamento più facilmente leggibile fra tutte le tappe che in tanti anni lo hanno portato a scoprire la storia di una comunità surfistica che ha lasciato tracce nell'arte, letteratura e cronache dinastiche, e ha ancora riscontri nella Cina contemporanea.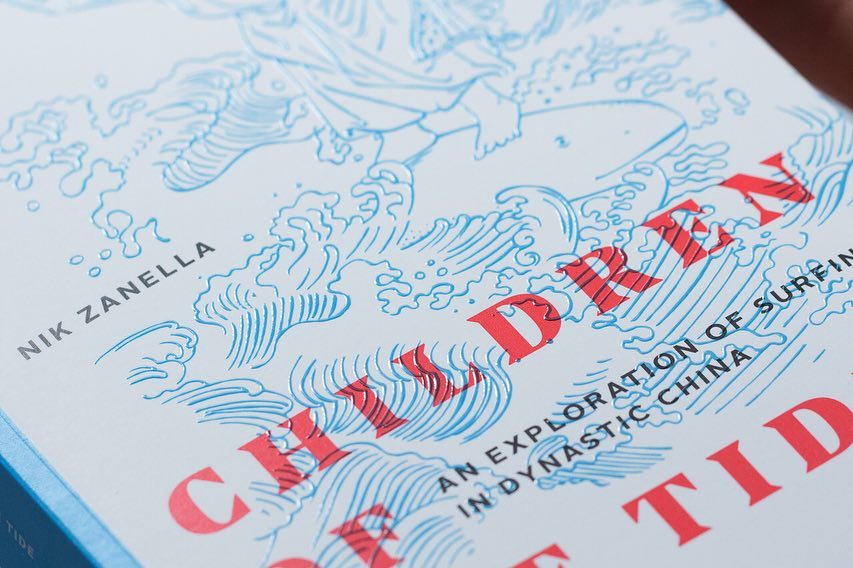 Il libro, pubblicato a maggio, è stato accolto con critiche positivissime da parte di media di settore come Magicseaweed, swellnet, Pacific Longboarder e molti altri...
Il libro è scritto in inglese (UK) e viene distribuito in eBook e in stampa ai link che trovate sotto. Noi di Sup News faremo del nostro meglio per farvi avere quanto prima una nostra recensione, ma per ora affrettatevi a comprarlo perché le 1000 copie stampate stanno andando a ruba.
POTETE ACQUISTARE LA VERSIONE STAMPATA QUI:
www.cordee.co.uk/Children-of-the-Tide
OPPURE LA VERSIONE EBOOK QUI:
www.amazon.com/Children-Tide-exploration-surfing-dynastic-ebook
Per seguire il progetto sui social media visitate
INSTA:
@childrenofthetide_thebook
@nikzanella
FB:
@childrenofthetide
@nicola.zanella.735