Primo bilancio agli ISA World SUP and Paddleboard Championships
Claudio Nika, Martino Rogai e Paolo Marconi ci hanno regalato emozioni a non finire! Ottime prestazioni anche nel femminile, con Chiara Nordio, Caterina Stenta e Cornelia Rigatti. Feedback più che positivi dai giovanissimi Daniele Dello Margio e Laura Dal Pont. Da oggi la kermesse si trasferisce a Vorupør per il SUP Wave, la Technical Races (SUP e Prone) e la Team Relay!
Dopo due giornate di gare è giunto il momento di tirare le prime somme della spedizione azzurra agli ISA World SUP and Paddleboard Championships. La rassegna iridata iniziata venerdì 1 settembre a Copenaghen con l'Open Ceremony e la parata delle nazioni è entrata nel vivo nella giornata di ieri l'altro, con la
Long Distance
e la categoria Prone, e ieri con la
Sprint Race
. La
Nazionale Italiana FISW Surfing di SUP
è stata subito chiamata a dimostrare davanti ad altre
41 nazioni
, rappresentate da quasi
300 atleti
, quali siano le proprie potenzialità e capacità. E la risposta è arrivata forte e chiara. Pur senza podi nel medagliere, l'Italia ha dimostrato di essere ai massimi livelli internazionali e competere con quelli che fino ad oggi erano considerati atleti irraggiungibili!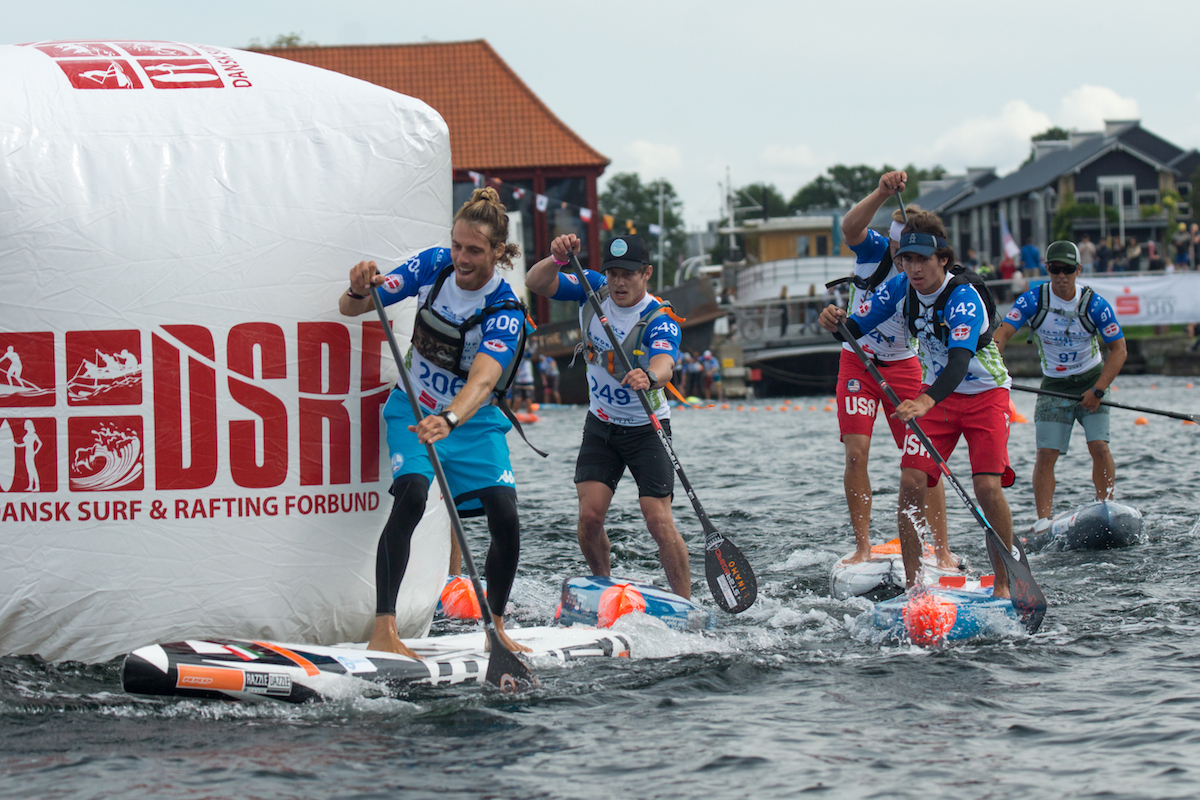 Andiamo per ordine. Sabato, nella
Long Distance
, grandissima prestazione di
Martino Rogai
e
Paolo Marconi
, che dopo una gara generosa che li ha visti protagonisti sin dalle prime pagaiate, si sono piazzati rispettivamente
settimo
ed
ottavo
davanti a tanti campioni.
"Con Martino abbiamo fatto una gara di squadra. Io ero nel gruppo di testa, ma sono caduto in boa. Lui invece ha fatto una brutta partenza, e quando ci siamo ritrovati abbiamo iniziato a collaborare, e piano piano abbiamo spaccato tutto il gruppo col quale eravamo a forza di scatti e cambi... Slater Trout, Kenny Kaneko, Ryan Funk, Trevor Tunnington e Michael Booth...
(Stiamo parlando di pezzi da 90 del circuito Pro, tutta gente che nella long distance poteva aspirare ad una medaglia! ndr).
Una volta staccato tutti abbiamo tirato forte dandoci cambi fino alla fine per non farci riprendere 👍🏻  Siamo davvero contenti perché abbiamo portato bei punti per la classifica a squadre, attualmente siamo quinti!! 💪🏻"
Per la cronaca, la vittoria è andata all'ungherese
Bruno Hasulyo
, che è riuscito a mettersi alle spalle il fuoriclasse hawaiiano
Connor Baxter
e il fenomenale neocaledoniano con passaporto francese 
Titouan Puyo
.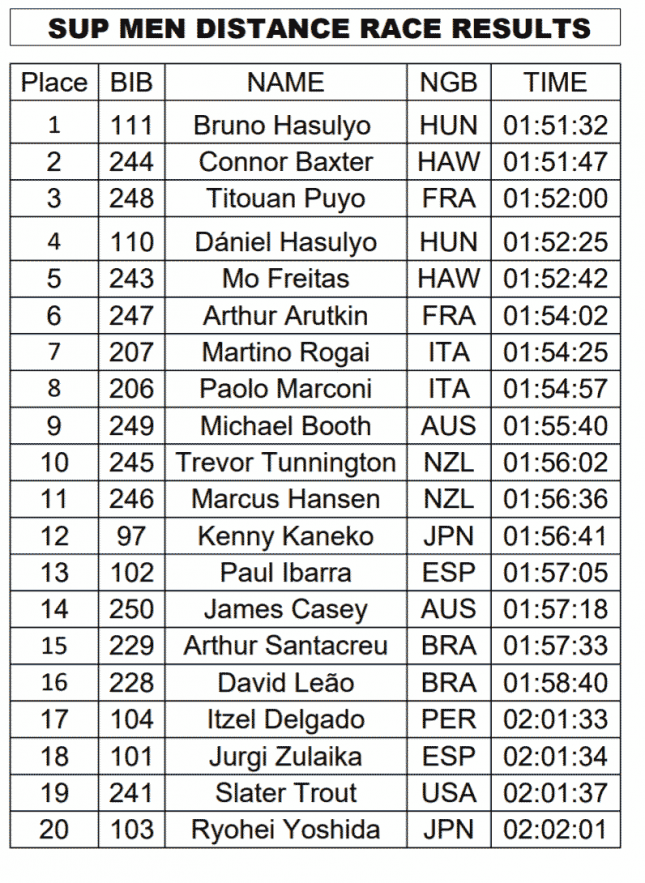 Nel femminile
18esimo
posto per
Chiara Nordio
che in acqua ha pagato un pizzico di inesperienza in confronto alle tante atlete in gara in questa disciplina! Ha davanti a sé un futuro sicuramente roseo che le regalerà emozioni e soddisfazioni. Poco dietro, ventunesima,
Caterina Stenta
.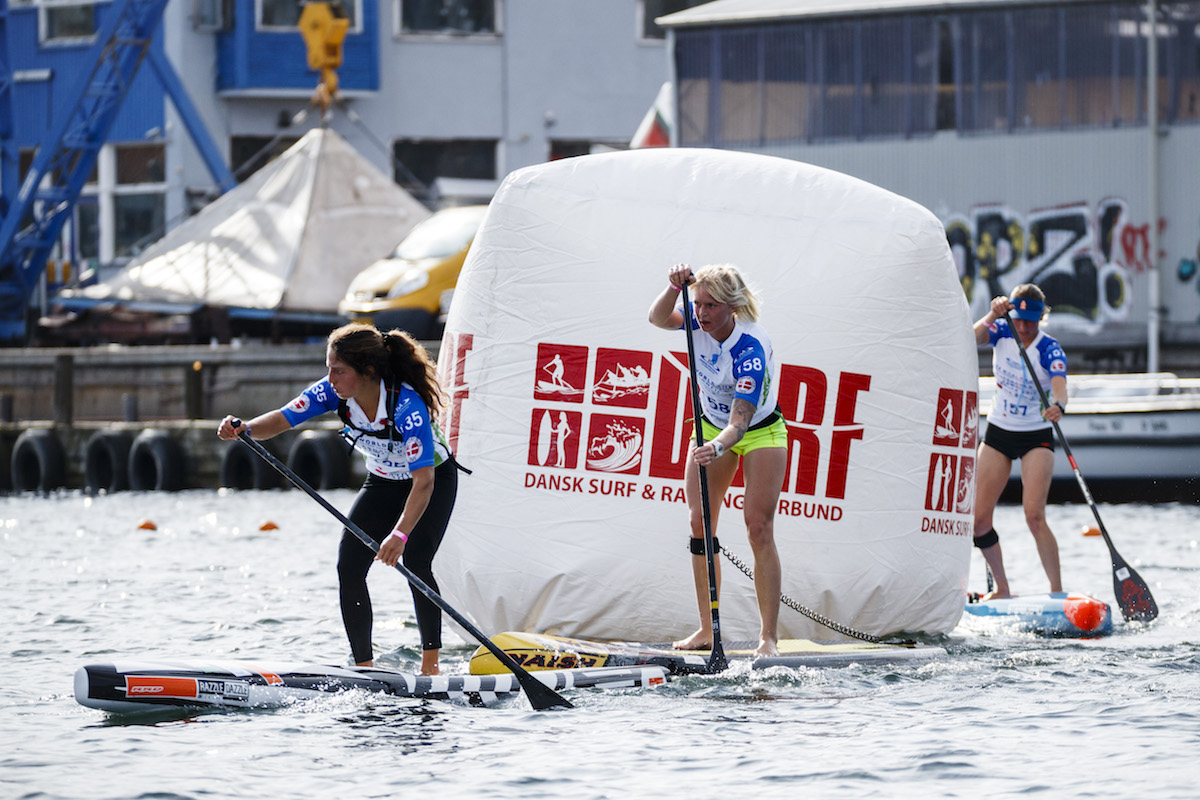 La medaglia d'oro va alla neozelandese 
Annabel Anderson
, argento per la teutonica 
Sonni Honscheid
, terzo posto per la francese 
Olivia Piana
. Solo ottava
Susak Molinero
, che sicuramente aveva le carte in regola per entrare nella lotta per i piazzamenti di vertice...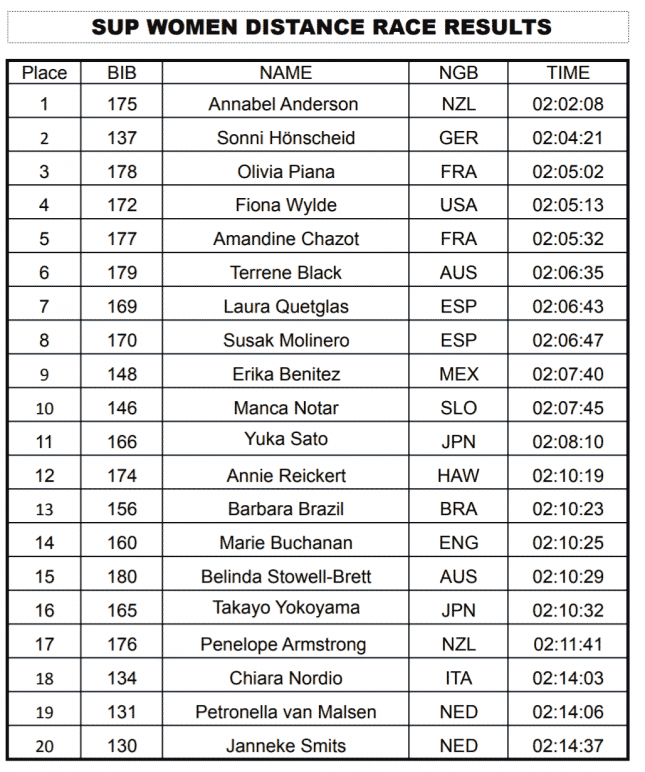 Nel
Prone femminile un gran settimo posto per
Cornelia Rigatti
mentre nel maschile davvero una grande prestazione per il giovanissimo (ha appena diciassette anni, il più piccolo della categoria) Daniele Dello Margio, 15esimo a tagliare il traguardo. Anche per Daniele, che fino al terzo giro alternava l'ottava con la nona posizione, qualche rimpianto dovuto alla giovane età e all'inesperienza. Sicuramente uno stimolo per migliorarsi ancor di più e diventare uno degli atleti di punta di questa Nazionale.
Ecco il video ufficiale ISA con gli highlights della prima giornata di gara:
Veniamo ora alla giornata di ieri: 
Sprint Race
da cardiopalma sia nel femminile che nel maschile.
Laura Dal Pont
ha dato battaglia fino all'ultimo centimetro di gara classificandosi terza nella sua Heat e non riuscendo purtroppo ad entrare in finale (passavano le prime due atlete classificate per ogni heat).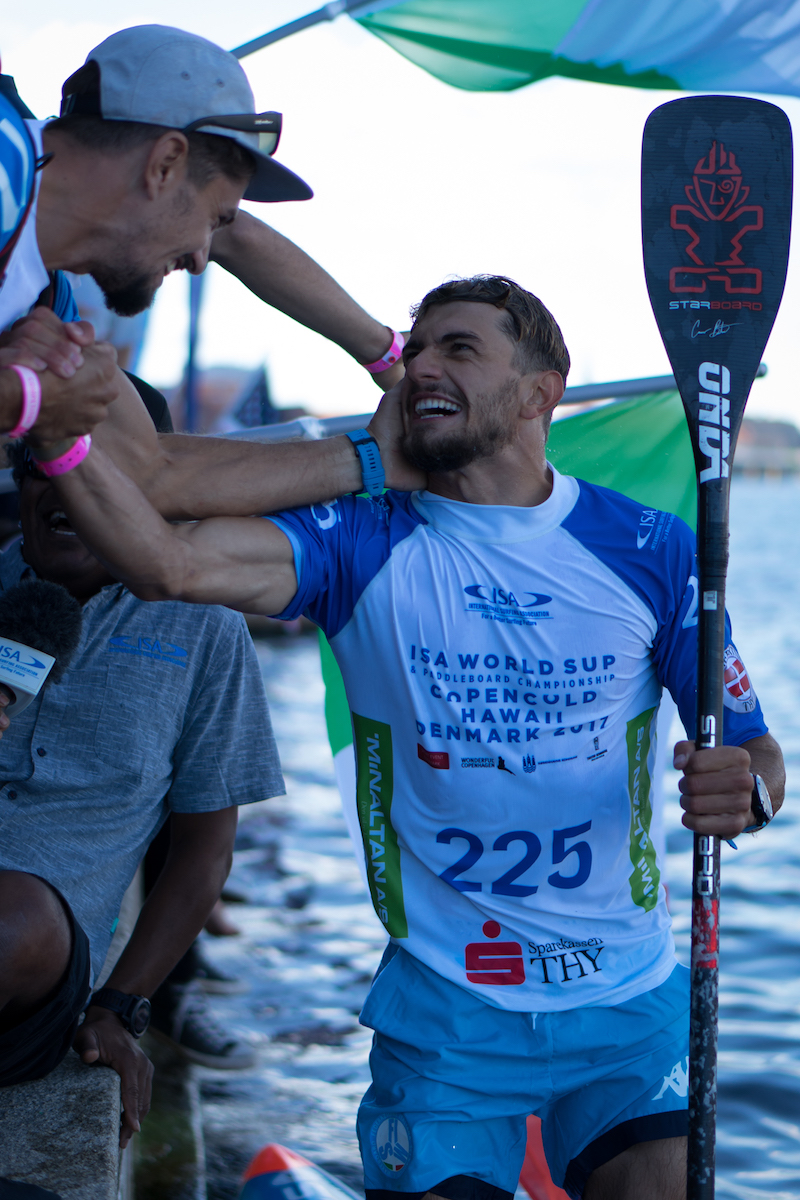 Capolavoro di
Claudio Nika
che vince la sua Heat in mattinata e si presenta più agguerrito che mai alla finalissima. Purtroppo però in finale con i più forti atleti al mondo non è riuscito a bissare il successo della mattina ed ha chiuso al
settimo posto
in classifica, che è comunque un risultato di ottimo livello!
Casper Steinfaith
, che ha mandato in delirio il folto pubblico presente per la gara, bruciando tutti e lasciando la medaglia d'argento a 
Trevor Tunnington
e quella di bronzo al brasiliano 
Arthur Santacreu
. Fra le ragazze è stata la slovena Manca Notar ad imporsi davanti alla francese 
Amandine Chazot
, e all'americana
Jade Howson
.
Ecco il video ufficiale ISA con gli highlights della seconda giornata di gara:
Ma non finisce qui. Gli ISA World SUP and Paddleboard Championships oggi si trasferiscono a Vorupør! Da martedì si ricomincia con il
SUP Wave
, la
Technical Race
(SUP e Prone) e la
Team Relay!
Sarà soprattutto la volta di
Leonard Nika
, impegnato sia nel
SUP Wave
che nella
Technical
Race
! Questi ragazzi hanno già dimostrato tutte le loro potenzialità a Copenaghen! Siamo certi che nella parte conclusiva degli ISA World SUP and Paddleboard Championships sapranno confermarsi nuovamente e rendere onore allo sport italiano!