Strana cosa il SUP. I più lo associano ad uno sport da praticare in quei tre o quattro mesi d'estate al mare, con le temperature calde e piacevoli che se cadi in acqua non te ne fai un problema, anzi, lo rende ancora più piacevole e divertente.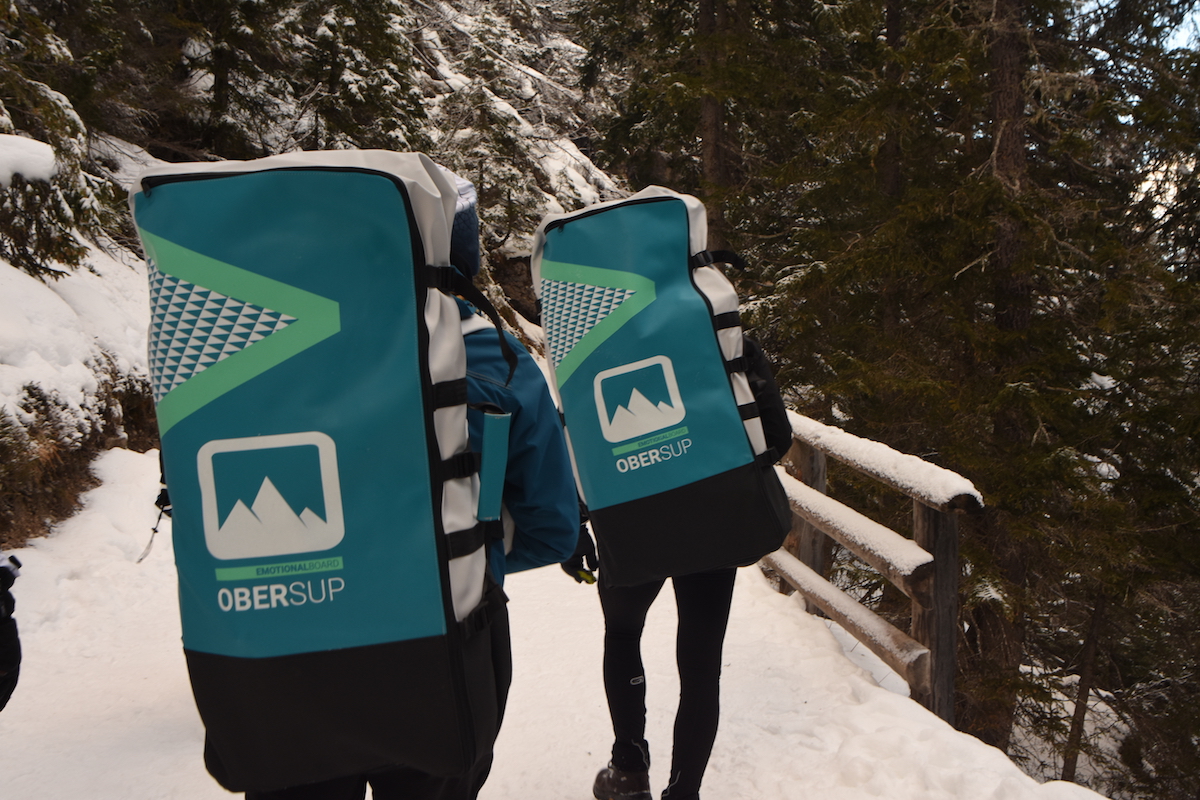 Ma quando hai a che fare con un team chiamato
Horizon 36
le cose cambiano. Cambia la concezione del SUP come semplice attività sportiva per assumere i connotati di un vero e proprio stile di vita volto a legare due concetti: quello di "exploring" cioè esplorare l'ambiente che ci circonda in maniera inedita, stando in equilibrio su una tavola da surf, e quello di "outdoor activity" cioè evadere dallo stress del lavoro e della società favorendo la voglia di viaggiare e scoprire luoghi sempre meno accessibili, a contatto con la natura.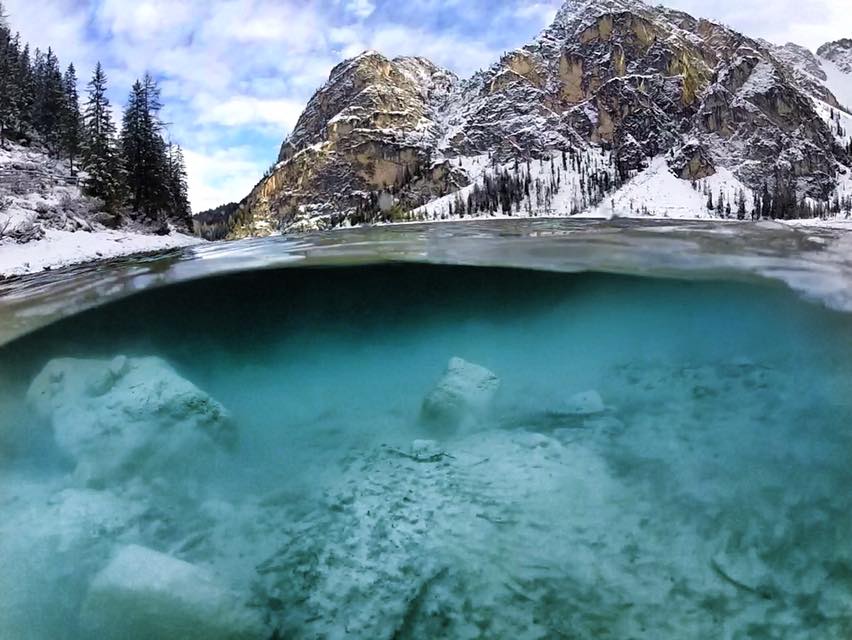 Il tutto, indipendentemente dalla stagione e dalle temperature: per 
Horizon 36
 ogni giorno dell'anno è buono per
praticare Stand Up Paddle
. Quindi, nel primo pomeriggio di un sabato di fine novembre, dopo aver caricato il furgone di tavole e voglia di divertirsi si parte verso nord, obiettivo:
lago di Braies
. Il viaggio vola tra musica, mangiate e abbozzando già a voce i prossimi impegni che il team dovrà affrontare. Ci fermiamo a Perca, in provincia di Bolzano. È freddo, ma scaricati i bagagli, riusciamo a rigenerarci nella spa dell'appartamento che abbiamo preso in affitto, tra sedute di sauna e tisane calde: finalmente relax. Davanti a una buona tagliata di bisonte americano in quel di Brunico, fissiamo sveglia e ora di partenza per la giornta di domenica. Good night.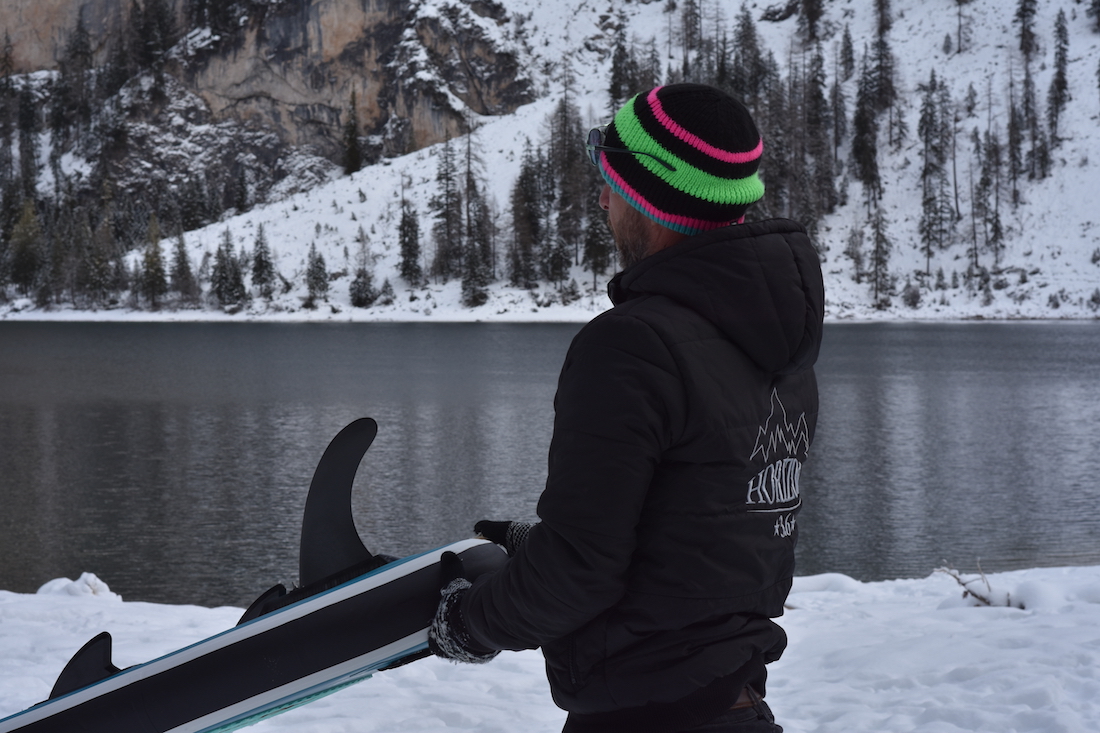 La domenica inizia con la sveglia alle 7:30 e una ricca colazione mentre ammiriamo le cime e le piste da sci innevate che ci circondano.
Si parte per Braies
. Raggiunti da amici provenienti dal Veneto, arriviamo al lago a metà mattinata che è già affollato di turisti che scattano foto e selfie e vi camminano sopra. Eh? Cosa? Camminano sopra al lago? Nooo! Con un pò di meraviglia mista a delusione notiamo che il lago è per buona parte una lastra di ghiaccio ma non ci demoralizziamo, prendiamo le nostre tavole, l'occorrente per il pranzo e, zaini in spalla, raggiungiamo la sponda di sud-ovest. Le temperature sono così basse (abbiamo toccato quota -6°C) che il nostro drone neanche riesce a volare: addio foto aeree. Non ci resta che scaldarci gonfiando le nostre Tavole OBERsup.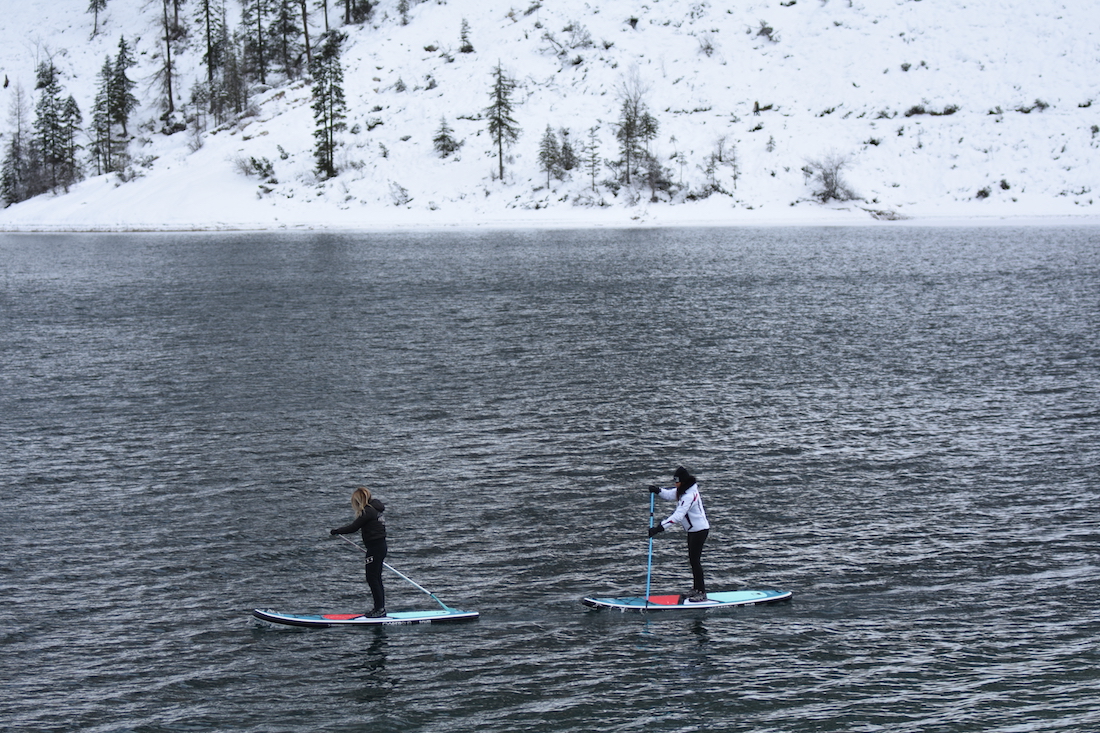 Iniziamo a solcare la parte di lago non ancora ghiacciato sotto lo sguardo incuriosito di persone che ci osservano interessate alla nostra attività e soprattutto al coraggio nel praticarla a quelle temperature, mentre il cielo, coperto da qualche nuvola che corre, fa intendere l'arrivo di qualche raffica di vento. La nostra prospettiva, senza alcun dubbio, è la più bella.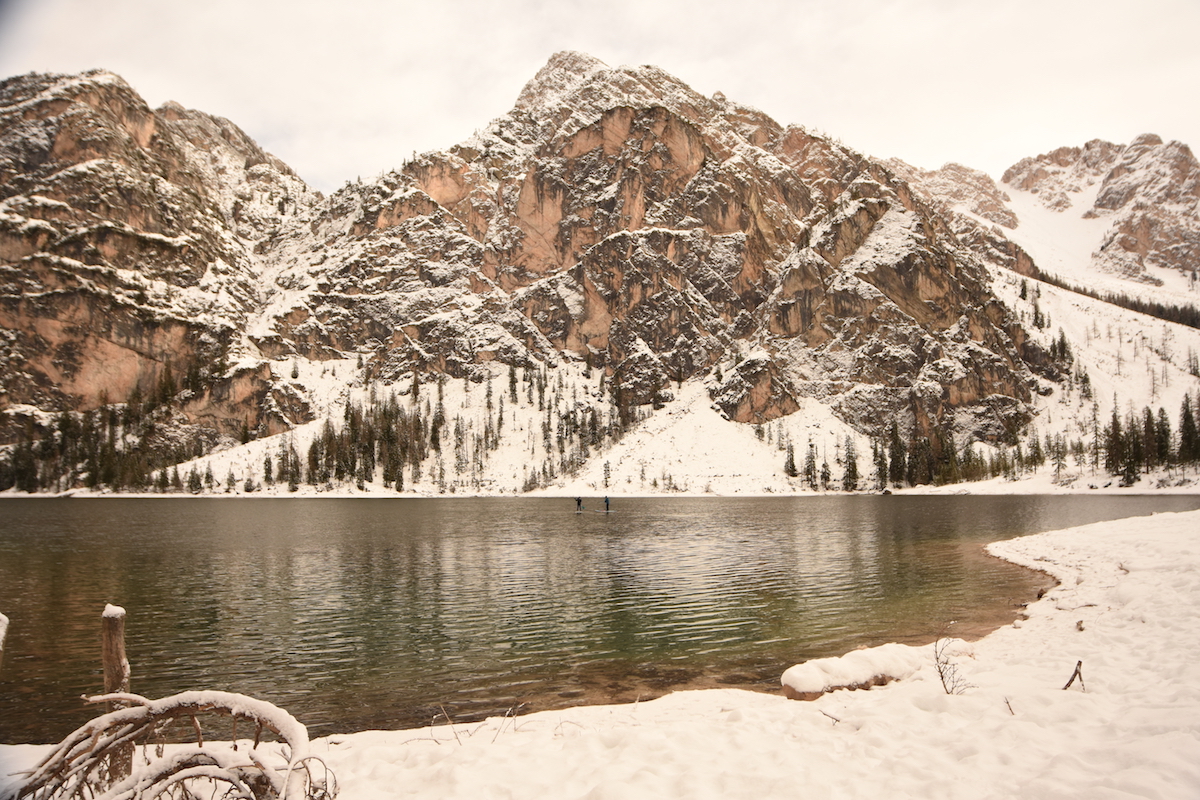 Siamo in mezzo al lago, circondati da una corona di foreste di conifere, e davanti a noi si erge maestosa, coi suoi 2810 m, la Croda del Becco innevata. È uno spettacolo nello spettacolo, un punto di vista inedito, particolare, invidiabile e solo nostro. Il sole e le nuvole giocano coi colori dell'acqua che gradatamente passa da un verde cupo ad un lieve azzurro brillante. C'è soddisfazione e gratitudine nei nostri volti, oltre a freddo e... fame. Scendiamo dai SUP e ci organizziamo con un fornello da campo e il nostro pasto a base di penne all'arrabbiata, panini con affettati misti e tipici dolci marchigiani. Arrivato il pomeriggio il freddo inizia a farsi sentire ancora di più e noi, ricaricati dal pranzo, ci perdiamo negli ultimi scatti, anche solo mentali, di questo posto fantastico per poi ritornare al furgone. Prima di imboccare l'autostrada c'è tempo per un'ultima suppata al chiaro di luna davanti alla Chiusa di Rio Pusteria.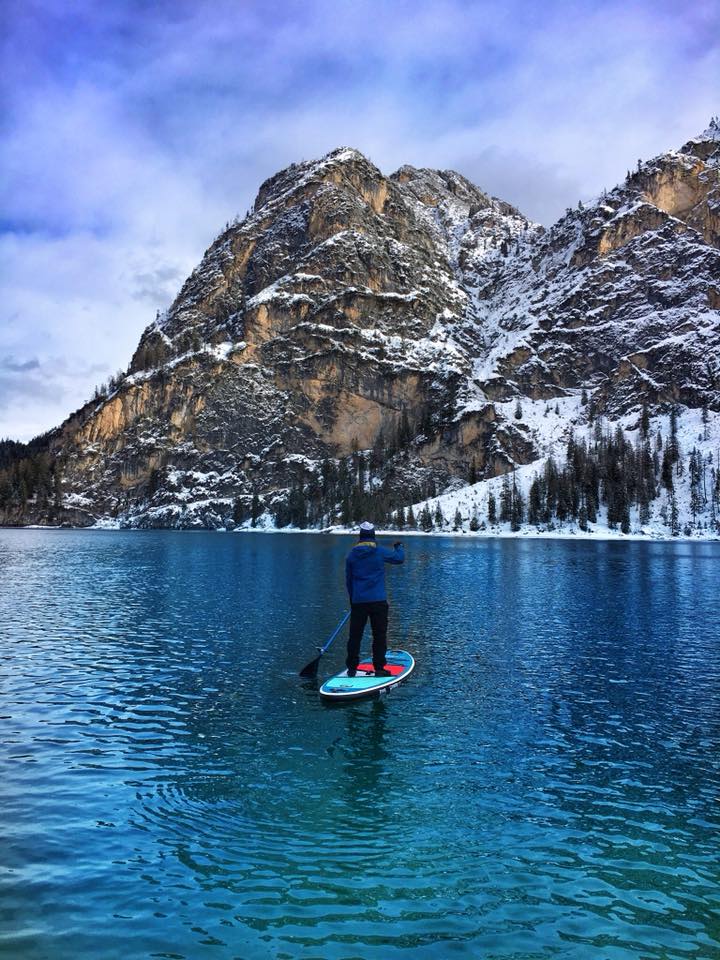 Si ritorna a casa con molta soddisfazione per un'esperienza outdoor che solo
Horizon 36
può farti vivere. Eppure, non siamo neanche a metà del viaggio di ritorno che già ci domandiamo: dove si va il prossimo weekend? Stay tuned with Horizon 36 and never stop exploring.
Jacopo Marconi
team
Horizon 36