Il prossimo 13/14 aprile con l'Etrusca SUP Race riprenderà la nuova stagione di gare del circuito Italian SUP League/CSEN con un calendario 2019 ricco di eventi e tuttavia ancora in via provvisoria. Ci sono alcune richieste ancora pendenti, ed il prossimo 15 aprile sarà pubblicato il Calendario definitivo per la stagione in corso. Ma intanto andiamo a vedere cosa ci aspetta quest'anno e quali saranno le gare già confermate.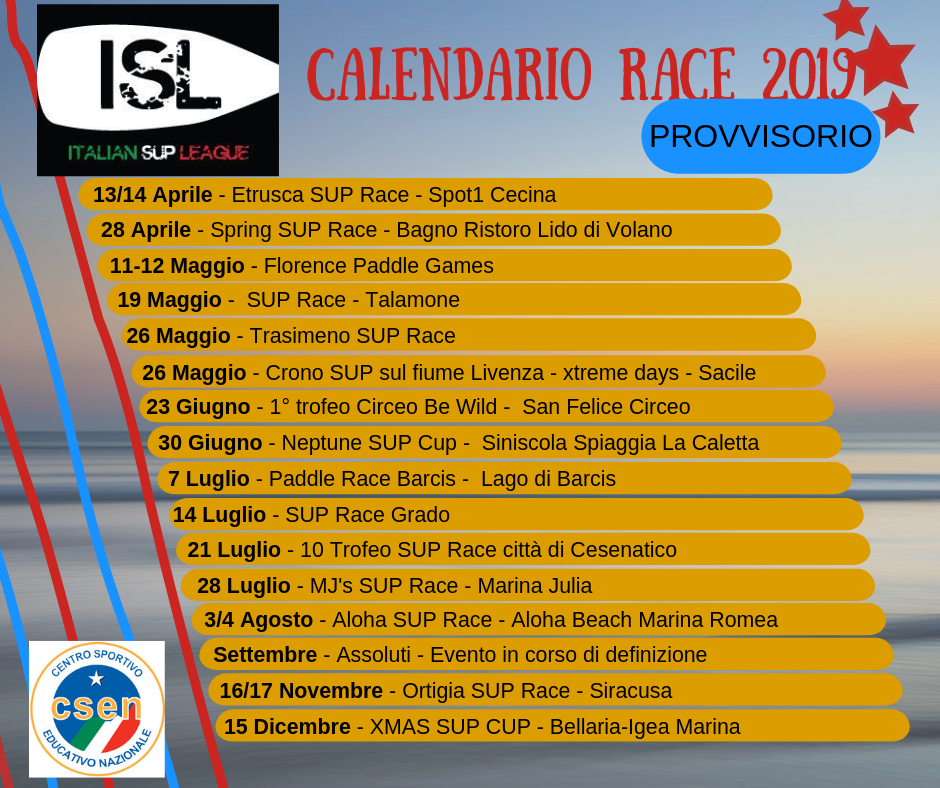 Ci saranno alcune novità nel format gare: per uniformarci al resto del mondo ISL ha stabilito di unificare le categorie race 12'6 e 14'. Si correrà quindi in un'unica categoria, fino a 14', sulla distanza più lunga, togliendo ogni riferimento alla lunghezza della tavola, sia per gli uomini che per le donne. Tuttavia, se la direzione locale della gara ritiene di fare una classifica sui 12'6 o sui gonfiabili può farlo senza problemi, ed assegnare le medaglie del caso, ma tale classifica sarà valida solo per quella gara ed il ranking ISL continuerà ad essere Race fino a 14'.
Anche negli amatori ci sarà la novità dell'ingresso dei 14', questo per permettere a tutti di partecipare. La scelta non vuole essere un deterrente, ma un modo per lasciare carta bianca all'organizzazione locale della gara. 
Riteniamo che ogni club abbia le sue particolarità e debba crearsi le varie sottocategorie degli amatori guardando tra le proprie fila di atleti… è un modo come un altro per rendere più partecipi anche i meno propensi alle gare.
Ultima novità importante è la creazione dei mini circuiti locali, per il momento sono 3 il circuto Tirreno "King of the West", il circuito del Nord est, ed il circuito Emiliano Romagnolo. I dettagli di queste leghe minori verranno pubblicati dopo la presentazione del calendario definitivo. Alcune gare saranno poi valide per l'assegnazione dei titoli di campione regionale ISL/CSEN.
La classifica sarà sempre al meglio di 6 gare e sarà utilizzato un nuovo metodo di punteggio per rendere le gare più eque. Tuttavia per la stagione in corso potrebbe essere adottato il punteggio degli anni passati per poi applicare questo nuovo punteggio dal prossimo anno.
Gli atleti iscritti a Italian Sup League nel 2018 potranno anche quest'anno utilizzare la stessa pettorina della stagione passata. Per partecipare agli eventi è quindi necessario tesserarsi a ISL e ogni atleta, come lo scorso anno, sarà coperto da una assicurazione CSEN.
E come avvenuto nelle passate stagioni, oltre alle gare race, ISL proporrà degli eventi ludico/esperienziali aperti a tutti, per il divertimento di tutti quanti.