18-20 gennaio - GlaGla Race 2019 -  Annecy - NEWS - REPORT - INTERVISTE
11-23 febbraio - APP - Sunset Beach Pro - Oahu, Hawaii - 

NEWS - REPORT - CLASSIFICHE

15-16 marzo - Euro Tour -  Israel SUP Race - Eilat, Israele - NEWS - REPORT - CLASSIFICHE
30 marzo - Euro Tour -  Air Tahiti Nui Royal Race, Tahiti - NEWS - REPORT - CLASSIFICHE
30-31 marzo - Euro Tour -  La Misteriosa SUP Race, Gran Canaria - NEWS - REPORT - CLASSIFICHE
13-14 aprile - ISL - Etrusca SUP Race - Spot1, Cecina - NEWS - REPORT - CLASSIFICHE
27-28 aprile - Euro Tour - Namur SUP Race, Namur, Belgio - NEWS - REPORT - CLASSIFICHE
28 aprile - ISL - Spring SUP Race - Bagno Ristoro, Lido di Volano - NEWS - REPORT - CLASSIFICHE
30 aprile - Euro Tour - SUP Night Race, Neusiedl am See, Austria - NEWS - REPORT - CLASSIFICHE

01 maggio -

SUPROME

- Fiume Tevere, Roma, Italia

04-05 maggio - Euro Tour - Azul Paddle Days, Nizza, Francia - NEWS - REPORT - CLASSIFICHE
11-12 maggio - Euro Tour - Vendee SUP Event, St. Jean De Monts, Francia - NEWS - REPORT - CLASSIFICHE
18-19 maggio - Euro Tour - World SUP Festival, Costa Blanca, Spagna - NEWS - REPORT - CLASSIFICHE
17-19 maggio - APP - London SUP Open, England - 

NEWS - REPORT - CLASSIFICHE

19 maggio - ISL - La Maremma SUP Race Talamone - NEWS - REPORT - CLASSIFICHE
25-26 maggio - Euro Tour - Cap de Crus SUP Challenge, Port de la Selva, Catalonia - NEWS - REPORT - CLASSIFICHE
26 maggio - ISL - Crono SUP Fiume Livenza - Xtreme Days, Sacile - NEWS - REPORT - CLASSIFICHE

31 maggio-02 giugno - FISW -

Mareincittà Milano

- Idroscalo - NEWS - REPORT - CLASSIFICHE

01 giugno - Outdoor Sports Festival - Baratti
01-02 giugno - Euro Tour - San Sebastian Paddle Tour, San Sebastian, Paesi Baschi - NEWS - REPORT - CLASSIFICHE
08-09 giugno - Euro Tour - Iberdola Bilbao World SUP Challenge, Bilbao, Paesi Baschi - NEWS - REPORT - CLASSIFICHE

09 giugno - FISW -

Big Eye SUP Race

- ASD Big Eye, Molo Sant'Antonio, Bari - NEWS - REPORT - CLASSIFICHE

15-16 giugno - Euro Tour - Corfu Emerald Cup, Mouse Island, Grecia - NEWS - REPORT - CLASSIFICHE

16 giugno - FISW -

SUP Race Nimbus Surfing Club

- ASD Nimbus Surfing Club, Marina di Pietrasanta, Lucca - NEWS - REPORT - CLASSIFICHE

22-23 giugno - Euro Tour - Agios Nikolaos on SUP, Agios Nikolaos, Creta - NEWS - REPORT - CLASSIFICHE
23 giugno - ISL - 1° Trofeo Be Wild - San Felice Circeo - NEWS - REPORT - CLASSIFICHE
29 giugno - Euro Tour - Bavarian Waters, Monaco, Germania - NEWS - REPORT - CLASSIFICHE

29-30 giugno - FISW -

Toscana Surfing CUP 2019 -

ASD Toscana Surfing, Le Gorette, Cecina, Livorno - NEWS - REPORT - CLASSIFICHE

06-07 luglio - Euro Tour - Prague SUP Race, Praga, Repubblica Ceca - NEWS - REPORT - CLASSIFICHE
07 luglio - ISL - Paddle Race Barcis - Lago di Barcis - NEWS - REPORT - CLASSIFICHE
12-14 luglio - Euro Tour - Battle of the Coast, Zandvoort, Olanda - NEWS - REPORT - CLASSIFICHE

12-14 luglio - FISW -

SUP Activity race Noli

- ASD Polisportiva Nolese, Noli Ligure  - NEWS - REPORT - CLASSIFICHE

14 luglio - ISL - SUP Race Grado  - NEWS - REPORT - CLASSIFICHE

20-21 luglio - FISW -

Surf EXPO Sup Race

- ASD Barefoot, Santa Severa, Roma - NEWS - REPORT - CLASSIFICHE

20-21 luglio - Euro Tour - VII Sieravuori SUP Masters, Sieravuori, Finlandia - NEWS - REPORT - CLASSIFICHE
21 luglio - ISL - 10° trofeo Città di Cesenatico - NEWS - REPORT - CLASSIFICHE
28 luglio - ISL - MJ's SUP Race - Marina Julia - NEWS - REPORT - CLASSIFICHE
03-04 agosto - ISL - Aloha SUP Race - Aloha Beach Marina Romea - NEWS - REPORT - CLASSIFICHE
23-24 agosto - Euro Tour - Maspalomas Pro, Gran Canaria - NEWS - REPORT - CLASSIFICHE

23-25 agosto - FISW -

Trofeo del Garda SUP Race

- ASD Lake Garda Academy, Brenzone sul Garda, VE - NEWS - REPORT - CLASSIFICHE

31 agosto - 7 settembre - APP - New York SUP Open, New York, USA

- NEWS - REPORT - CLASSIFICHE

01 settembre - FISW -

3Oceani BIC Battle

- ASD Tre Oceani Paddle Surf Center, San Cataldo, LE  - NEWS - REPORT - CLASSIFICHE

01 settembre - ISL -

Lignano SUP Race

 - NEWA, Lignano

01 settembre -

SUP Race Sturla

- Circolo Nautico Sturla, Genova, GE - Tappa Promozionale

06-08 settembre - Euro Tour - SUP World Cup, Scharbeutz, Germania - NEWS - REPORT - CLASSIFICHE
07-08 settembre - FISW - Mediterranean Sea Cup, Porto Turistico di Roma  - NEWS - REPORT - CLASSIFICHE
11-15 settembre - Euro Tour - SUP 11 City Tour, Olanda - NEWS - REPORT - CLASSIFICHE
15 settembre - FISW - SUMMER SUP RACE - Circolo della Vela Lakkios, Ortigia, Siracusa - Gara Promozionale 

- NEWS - REPORT - CLASSIFICHE

15 settembre - ISL - Crono SUP Fiume Livenza - Sacile  - NEWS - REPORT - CLASSIFICHE
20-22 settembre - 10° edizione dell'Open Water Challenge Oristano - NEWS - REPORT - CLASSIFICHE
20-22 settembre - APP -  Osaka SUP Open, Giappone 

- NEWS - REPORT - CLASSIFICHE

22 settembre - FISW -

TanaOnda Sup Race

- ASD Tana Onda, Bari - NEWS - REPORT - CLASSIFICHE

28 settembre-28 ottobre -

1° Tappa Coppa Italia SUP Wave

- ASD Cinghiale Marino Surf Club, Andora - NEWS - REPORT - CLASSIFICHE

29 settembre - FISW - EWS SUP RACE - ASD Toscana Surfing, Spiaggia di Procchio all'Isola d'Elba (LI) 

- NEWS - REPORT - CLASSIFICHE

5-6 ottobre - ISL - Windfestival Diano Marina  - NEWS - REPORT - CLASSIFICHE

5-6 ottobre -

LA SAGRA DEL SURF DI CAPO MANNU - NEWS - REPORT
19-20 ottobre - Euro Tour - Presqu'Ile Paddle Race, Lione, Francia - NEWS - REPORT - CLASSIFICHE
12-13 ottobre - APP - Pacific Paddle Games, Dana Point, California, USA - 

NEWS - REPORT - CLASSIFICHE

13 ottobre - ISL - Trasimeno SUP Marathon - NEWS - REPORT - CLASSIFICHE
15 ottobre-7 novembre - APP - Red Bull Heavy Waters, San Francisco, California, USA - 

NEWS - REPORT - CLASSIFICHE

20 ottobre - ISL - Firenze SUP GP - Firenze - NEWS - REPORT - CLASSIFICHE
24-27 ottobre - ICF - SUP WORLD CHAMPIONSHIP, Quingdao, Cina - 

NEWS

- REPORT - CLASSIFICHE

01-03 novembre - FISW -

Campionato Italiano Assoluto SUP Race

- ASD Cinghiale Marino Surf Club, Andora - NEWS - REPORT - CLASSIFICHE

01 novembre-07 dicembre -

FISW SURFING GAMES 2019

- Is Benas Surf Club, Capo Mannu (San Vero Milis) - Campionati Italiani Assoluti

09-17 novembre - APP - Barbados Pro-AM - 

NEWS - REPORT - CLASSIFICHE

16-17 novembre - ISL - Ortigia SUP Race - Siracusa - NEWS - REPORT - CLASSIFICHE
20-22 novembre - APP - Brazil Aloha Spirit Festival - 

NEWS - REPORT - CLASSIFICHE

11-18 dicembre - APP - Las Palmas de Gran Canaria - 

NEWS - REPORT - CLASSIFICHE

15 dicembre - ISL - Xmas SUP Cup - Bellaria-Igea Marina - NEWS - REPORT - CLASSIFICHE
---
SURFING FISW 2019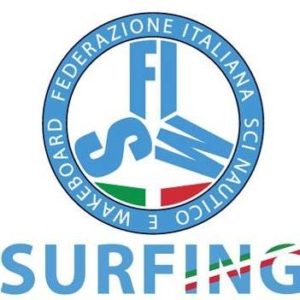 CALENDARIO GARE SUP RACING FISW 2019
31 maggio-02 giugno -

Mareincittà Milano

- Idroscalo - Tappa Circuito Nazionale

09 giugno -

Big Eye SUP Race

- ASD Big Eye, Molo Sant'Antonio, Bari - Tappa Regionale Puglia

16 giugno -

SUP Race Nimbus Surfing Club

- ASD Nimbus Surfing Club, Marina di Pietrasanta, Lucca - Gara Amatoriale

29-30 giugno -

Toscana Surfing CUP 2019 -

ASD Toscana Surfing, Le Gorette, Cecina, Livorno - Tappa Campionato Italiano

12-14 luglio -

SUP Activity race Noli

- ASD Polisportiva Nolese, Noli Ligure - Gara Amatoriale

20-21 luglio -

Surf EXPO Sup Race

- ASD Barefoot, Santa Severa, Roma - Tappa Campionato Italiano

23-25 agosto -

Trofeo del Garda SUP Race

- ASD Lake Garda Academy, Brenzone sul Garda, VE - Tappa Campionato Italiano

01 settembre -

SUP Race Sturla

- Circolo Nautico Sturla, Genova, GE - Tappa Promozionale

07-08 settembre - MEDITERANEAN SEA CUP - ASD The Beach Club, Porto di Ostia (Roma) - Tappa di Campionato Italiano SUP Race e Promozionale
15 settembre - SUMMER SUP RACE - Circolo della Vela Lakkios, Ortigia, Siracusa - Gara Promozionale

22 settembre -

TanaOnda Sup Race

- ASD Tana Onda, Bari - Tappa Circuito Regionale Puglia

29 settembre - EWS SUP RACE - ASD Toscana Surfing, Spiaggia di Procchio all'Isola d'Elba (LI)

01-03 novembre -

Campionato Italiano Assoluto SUP Race

- ASD Cinghiale Marino Surf Club, Andora - Campionati Italiani Assoluti
CALENDARIO GARE SUPWAVE FISW 2019
28 settembre-28 ottobre -

1° Tappa Coppa Italia SUP Wave

- ASD Cinghiale Marino Surf Club, Andora

01 novembre-07 dicembre -

FISW SURFING GAMES 2019

- Is Benas Surf Club, Capo Mannu (San Vero Milis) - Campionati Italiani Assoluti
Per maggiori info su iscrizioni, regolamenti, categorie:
www.surfingfisw.com/calendario-nazionale-sup/
---
ITALIAN SUP LEAGUE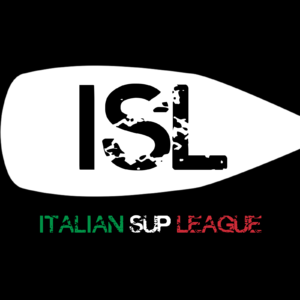 ISL nasce da una libera associazione di Asd sportive con lo scopo di unire tutti gli atleti o semplici appassionati del Sup, promuovere e diffondere lo Stand Up Paddling al di fuori delle federazioni .
CALENDARIO 2019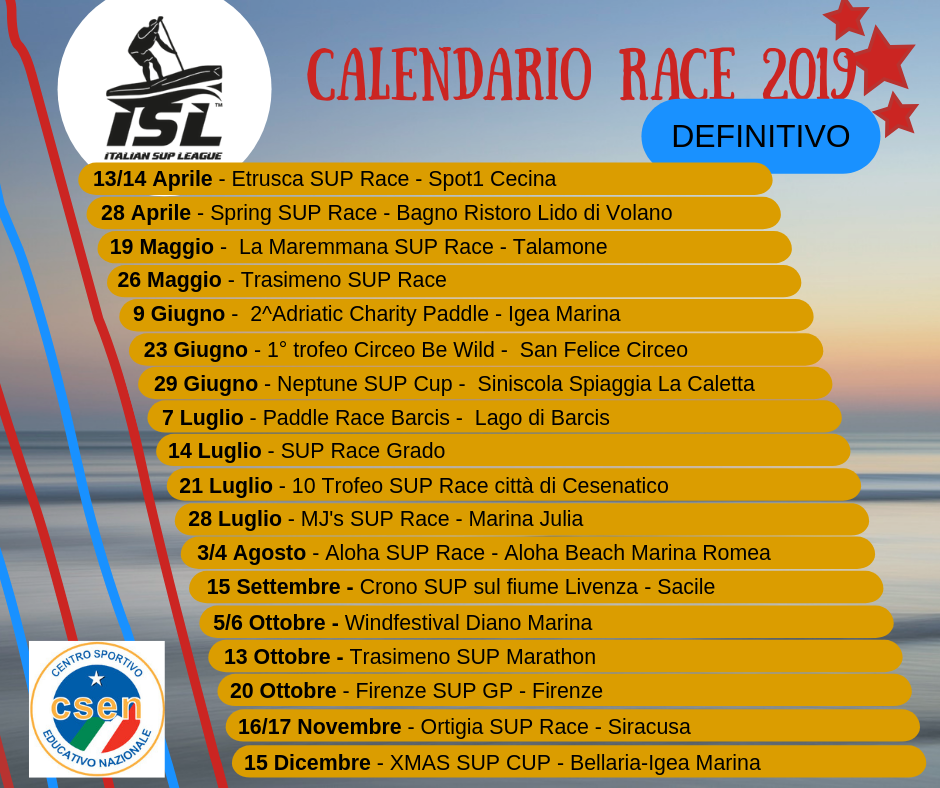 Per maggiori info: www.italiansupleague.it
---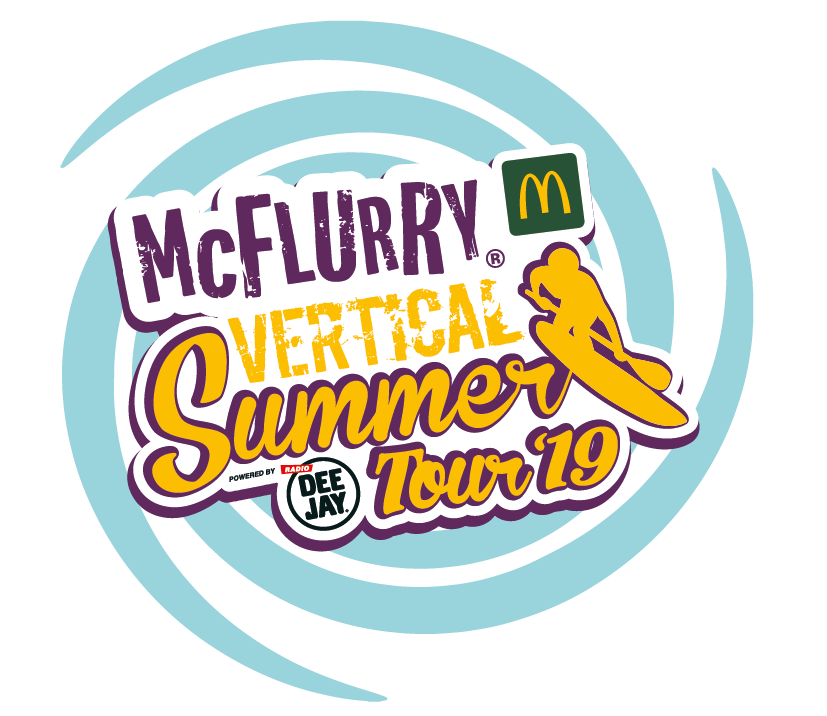 McFlurry Vertical Suller Tour 2019
DATE&LOCATION VERTICAL VILLAGE 2019 E ARTISTI RADIO DEEJAY
20 e 21 luglio @Beach Village, LIGNANO SABBIADORO (UD) Domenica 21 luglio, ore 17.30 Special Guest WAD by Radio DEEJAY
27 e 28 luglio @Bagno Alhambra, VIAREGGIO (LU) Domenica 28 luglio, ore 17.30 Special Guest VIC by Radio DEEJAY
6 e 7 agosto @Sunset Beach Arena, CATTOLICA (RN) Mercoledì 7 agosto, ore 17.30 Special Guest RUDY ZERBY by Radio DEEJAY
9, 10, 11 agosto @Spiaggia Libera Lung. Gramsci, 18, PORTO SAN GIORGIO (FM) Sabato 10 agosto, ore 17.30 Special Guest DIEGO PASSONI by Radio DEEJAY
13, 14, 15 agosto @Lungomare Costa Viola, PALMI (RC) Giovedì 15 agosto, ore 17.30 Special Guest CHICCO GIULIANI by Radio DEEJAY
17 e 18 agosto @Lungomare Eroi del Mare, CASTELLANETA MARINA (TA) Domenica 18 agosto, ore 21.30 Special Guest MARIO FARGETTA by Radio DEEJAY
20, 21, 22 agosto @Lungomare Giuseppe Giardina, CEFALU' (PA) Giovedì 22 agosto, ore 17.30 Special Guest CHICCO GIULIANI by Radio DEEJAY
24 e 25 agosto @Spiaggia libera via Faro, SAN VITO LO CAPO (TP) Domenica 25 agosto, ore 17.30 Special Guest SHORTY by Radio DEEJAY
---
FICK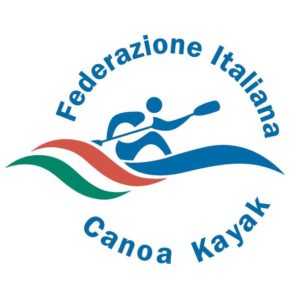 FICK è la Federazione Italiana Canoa Kayak che fa riferimento alla ICF (Federazione Internazionale Canoa) che in questo momento si sta contendendo con ISA la governance mondiale del Sup (Race) in ambito del Comitato Olimpico Internazionale. In Italia FICK ha affidato il SUP Race a CSpT (Comitato Sport per Tutti - Federcanoa) e vi terremo aggiornati quando verrà diramato un calendario ufficiale delle gare e manifestazioni SUP riconosciute in Italia...
---
EURO TOUR SUP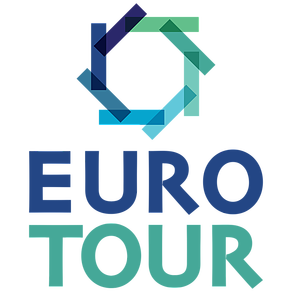 Nato nel 2015 per unificare la frammentata scena delle gare SUP in Europa, l'EuroTour tocca 8 paesi europei ed incoraggia gli atleti ad uscire dal proprio panorama nazionale per provare in prima persona cosa ha da offrire la scena delle gare SUP Race in Europa.
EURO TOUR 2019
15-16 marzo - Israel SUP Race - Eilat, Israele
30 marzo - Air Tahiti Nui Royal Race, Tahiti
30-31 marzo - La Misteriosa SUP Race, Gran Canaria
27-28 aprile - Namur SUP Race, Namur, Belgio
30 aprile - SUP Night Race, Neusiedl am See, Austria
04-05 maggio - Azul Paddle Days, Nizza, Francia
11-12 maggio - Vendee SUP Event, St. Jean De Monts, Francia
18-19 maggio - World SUP Festival,Costa Blanca, Spagna
25-26 maggio - Cap de Crus SUP Challenge, Port de la Selva, Catalonia
01-02 giugno - San Sebastian Paddle Tour, San Sebastian, Paesi Baschi
08-09 giugno - Iberdola Bilbao World SUP Challenge, Bilbao, Paesi Baschi
15-16 giugno - Corfu Emerald Cup, Mouse Island, Grecia
22-23 giugno - Agios Nikolaos on SUP, Agios Nikolaos, Creta
29 giugno - Bavarian Waters, Monaco, Germania
06-07 luglio - Prague SUP Race, Praga, Repubblica Ceca
12-14 luglio - Battle of the Coast, Zandvoort, Olanda
20-21 luglio - VII Sieravuori SUP Masters, Sieravuori, Finlandia
23-24 agosto - Maspalomas Pro, Gran Canaria
06-08 settembre - SUP World Cup, Scharbeutz, Germania
11-15 settembre - SUP 11 City Tour, Olanda
19-20 ottobre - Presqu'Ile Paddle Race, Lione, Francia
Per maggiori informazioni:
www.eurotoursup.com
---
APP WORLD TOUR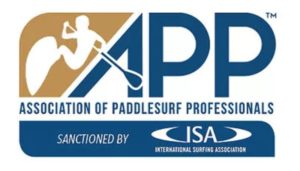 APP (Association of Paddlesurf Professionals) è il World Tour professionistico del SUP, che vede battersi i migliori interpreti della disciplina per la conquista del titolo mondiale nelle specialità Race e Surf.
Sunset Beach Pro, UK: 11th - 23rd Feb
London SUP Open: 17th - 19th May
New York SUP Open: 31st August - 7th September
Osaka SUP Open: 20th - 22nd September
Pacific Paddle Games: 12th - 13th October
Red Bull Heavy Water: 15th Octber - 7th November
Barbados Pro AM: 9th - 17th November
Brazil Aloha Spirit Festival: 20th - 22nd November
Las Palma de Gran Canaria: 11th - 18th December
Per maggiori info: appworldtour.com/tour-dates
---